François Boucher
Study of a Seated Female Nude | Étude de femme nue assise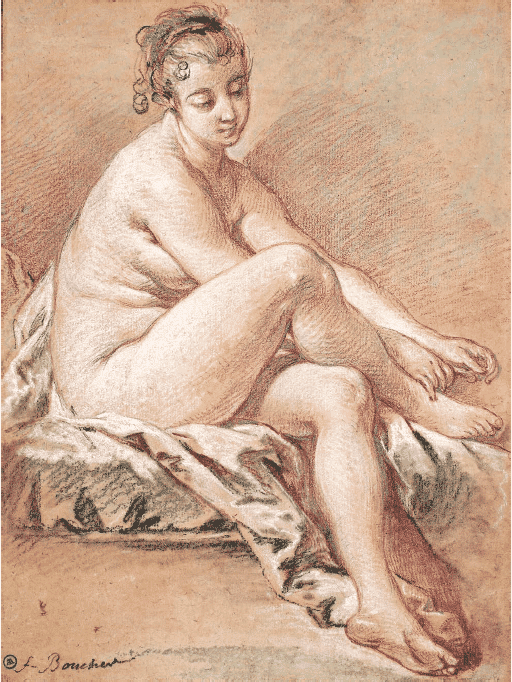 Red, black and white chalk, with blue pastel shading on buff paper
Inscribed f- Boucher at lower left
305 x 225 mm (12 x 8 7/8 in.)
Provenance
Marie-Guillaume-Thérèse de Villenave (1762-1846) Paris; his sale, Paris, Société de l'Alliance des Arts (L. 61), 1st December and days following, 1842, lot 604; private collection, Paris; with Stair Sainty Matthiesen, New York, François Boucher, His Circle and Influence, 1987, cat.26, reproduced p.48 and pl.III; Bernadette and William M.B. Berger, Denver, Colorado, acquired in 1996, then part of The Berger Collection Educational Trust at the Denver Art Museum, sold to benefit future philanthropy.
Exhibition
Aspen, Colorado, Old Master Paintings and Drawings from Colorado Collections, 1998, pp.2 and 148, reproduced on the cover, catalogue by Timothy J. Standring; New York, The Frick Collection and Fort Worth, The Kimbell Art Museum, The Drawings of François Boucher, 2003-4, p.108, cat.34, illustrated pp.10 and 109, catalogue by Alastair Laing.
Literature
Soullié & Ch. Masson, Catalogue raisonné de l'oeuvre peint et dessiné de François Boucher, Paris 1906, No.2233; A. Ananoff (in collaboration with the Wildenstein Institute), François Boucher, Paris 1976, vol.II, pp. 36 and 37, under No.338, 338/3, Fig.978; Alastair Laing, The Drawings of François Boucher, 2003-4, p.108, cat.34, illustrated pp.10 and 109.
The pose of this elegant and voluptuous figure may be seen as an elaboration of the figure of Diana seen in a similar vein in the painting of Diana Bathing which was exhibited at the Salon of 1742 and purchased by the Musée du Louvre in 1852. Alastair Laing considers this drawing to date from some years later, around 1755, and notes that there are at least three engravings of a very similar figure. In the present work, the young woman gazes pensively down, almost turned to the viewer and she reaches out for her raised foot, whilst in the engravings, the face is in profile and the figure holds a piece of drapery way from her. The first example, which is a crayon-manner engraving by Gilles Demarteau said to be after a drawing then in the collection of Mme. Blondel d'Azaincourt, depicts the figure with a scattered basket of flowers at her feet looking at more flowers held in the piece of drapery. The two others by Louis-Marin Bonnet and Antoine-François Dennel, the latter with the appearance of being after a painting, show a pair of doves rather than flowers in the drapery and bear the titles, The Symbol of Love and The Dangerous Gaze. Most probably, the conceit of these engravings was lost virginity.
It is possible that the present study was a first working of this theme, but with the very clear intent also to be a homage to the female form with Rubensian overtones, the pose bringing to mind not only the Goddess Diana but Venus too, see for example Boucher's Toilet of Venus now in the Metropolitan Museum of Art, New York. As Françoise Joulie describes in her catalogue to the 2013 exhibition François Boucher, Fragments of a World Picture, in the years after 1740, "...there is a softer threedimensional treatment .. the shadows were rendered lightly with black chalk; touches of coloured pastel were later applied to some of these drawings .. It was at this time that Boucher's drawings were first framed and amateurs developed a passion for collecting his female nudes"[1]. This work is a perfect example of such decorative drawings meant to be collected and placed on the walls in frames in the same way as pastels: executed in trois crayons and highly finished, it was certainly viewed more as a work of art in its own right rather than as a preparatory study.
By the early 19th century it was owned by the collector and man of literature Marie-Guillaume- Thérèse de Villenave (1762-1846). The drawing was included in the first sale from his collection, which was held during his lifetime, and orchestrated by the Société de l'Alliance des Arts an organisation newly founded by Théophile Thoré with the aim of making auctions more official and the expertise more credible, as symbolised by the stamped mark placed on works offered for sale under its ægis (seen here in the lower left corner of the sheet).
---
[1] F. Joulie, exhibition catalogue, François Boucher, Fragments of a World Picture, gl Holtegaard, 2013, p.90 and p.96.