Émile Bernard
In Front of the House | Devant la maison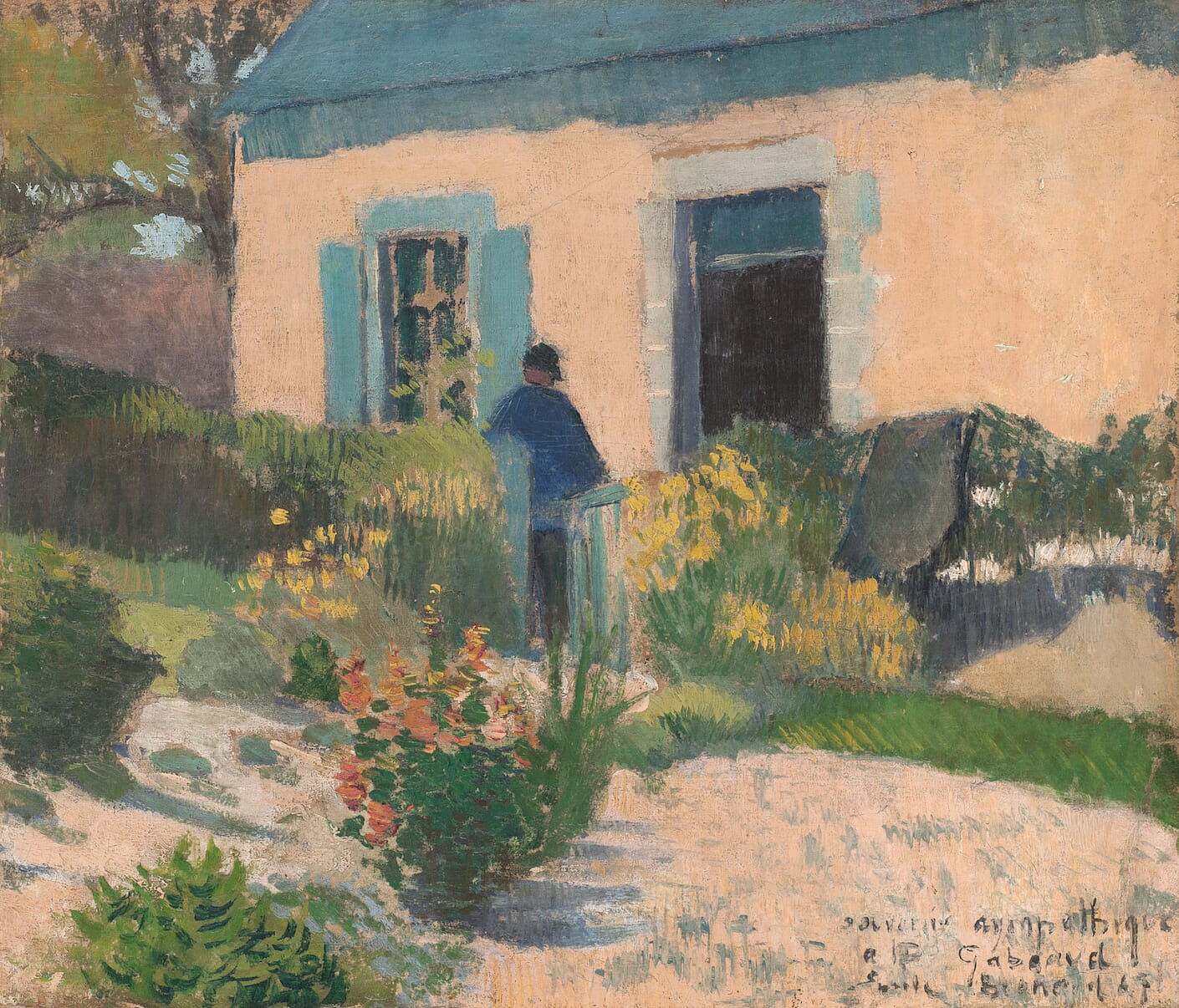 Oil on canvas
Dedicated, signed and dated bottom right Souvenir sympathique à P. Gabeaud Emile Bernard 87
31 x 36 cm (12 ¼ x 14 3/16 in.)
In 1887, the year this painting was created, Émile Bernard was an artist who, despite his young age of barely nineteen, had already gathered a large number of experiences and had done a considerable amount of artistic experimentation.
Sensitive to their son's obvious talents for drawing and painting and despite their apprehension for his future, Émile Bernard's parents had agreed to send him at the early age of sixteen to the studio run by Fernand Cormon at 104 boulevard de Clichy in Paris. In this artist's studio whose "minor methods" he must not have put up with for long, he met several artists, including Louis Anquetin, Gaston Pujol, Henri de Toulouse-Lautrec and Vincent Van Gogh. Thrown out for insubordination as early as 1885, he did not give in to the family's insistence that he find work and settle down, but on the contrary he managed to convince his parents to let him travel through Brittany on foot. He left on 6 April 1886, passing through Mayenne, Beauvoir, Mont-Saint-Michel, Cancale, Saint-Briac and Saint Malo amongst others, a trek that we can follow thanks to the detailed and warm correspance he exchanged with his family throughout his peregrinations. At Concarneau, he met Schuffenecker who had just participated in the 8th Impressionist exhibition and who encouraged him to go to Pont-Aven to meet Paul Gauguin who was staying at the Pension Gloanec there. Once he arrived at Pont-Aven, he settled there for a while and created some beautiful paintings in the Impressionist manner such as August, Orchard at Pont-Aven, which were greatly admired but not at all to the liking of Gauguin who treated the young artist coldly. Back in Asnières in October 1886, Bernard found Van Gogh and Father Tanguy through whom he discovered the works of Cézanne which had a strong impact. At an exhibition in Asnières, he met Paul Signac but only briefly gave in to the temptations of Pointillism and its vibrant treatment of light which he admired, but deplored the absence of coloured impression. Attracted by Japanese art, he and Anquetin began to practice Cloisonnism and to return to colour, while the representation of modern reality was still at the heart of their process which culminated in the radicality of the View of the Bridge at Asnières (Brest, Musée des Beaux-Arts), a painting built up around strong horizontal lines, using flat areas of colour and the dark outlines of the figures and objects.
Our painting was made at the start of a second trip to Brittany. In a letter to his parents, dated 16 May 1887 [1] he wrote about meeting the young poet Paul Gabeaud whom he had met through Mr. Muguet, a "soldier musician, married in Mayenne" with whom he shared frugal meals. Paul Gabeaud, a "very nice man, poet, painter and songwriter [...], kindhearted man" at the age of twenty-three and the two young people, who quickly became inseparable, exchanged poems and romances. Bernard wrote: "I gave him a study that we did together, yesterday". This certainly refers to this one, which is dedicated to him. Émile Bernard doubtless meant that they were together when he created it. They probably discussed it since Bernard's artistic practice seems to have provoked Paul Gabeaud's curiosity, in fact he dedicated a poem to him [2]. Although Paul Gabeaud did not really make a career in literature the two men kept in touch as Bernard sent him his poem Adam, ou l'homme (Venezia la Belle, 1922) in 1929.
In this "study" done from life, a "sympathetic pleasant memory" of the light filled days of spring, Bernard seems to have given up Cloisonnism, at least temporarily, although the Woman with Geese (private collection), created at Ribay at the end of April still showed his use of powerful horizontal axes and strong outlines. Here on the contrary, like in his Public Garden (private collection), which he also painted during his time in Mayenne, it gives the impression of an attempt to fuse forms and colours, experimentation with a form of nature that is a little artificial, bushes and paths reduced "to elegant geometric forms retouched by small parallel vertical strokes" as Fred Leeman described in his publication on Émile Bernard,[3] a comment that applies perfectly to our painting. Here, the artist has abandoned the use of horizontal and vertical lines in favour of diagonals and curves, like in Evening at Saint-Briac (private collection). He also uses the same small coloured hatching in Walk in the Bois d'Amour (private collection), a hesitant work which also falls between several movements. The great modernity of the paintings Bernard made in late of 1887 and 1888 developed from the experimental character of this period, during which his relationship with Gauguin became crucial.
---
[1] Neil McWilliam, Émile Bernard, les lettres d'un artiste (1884 – 1941), Dijon, Les presses du réel, 2012, p. 60-62, lettre n° 20.
[2] "Where are you going? Travelling painter/ always gathering along the roads/ Fleeing Paris and all its doubts/ to walk alone, sad and pensive? When on your forehead drops bead/When in your eyes red appears/ and in your furious desire/ you take your paintings for daubs/ what are you hoping for, always thoughtful? / with no future, no proud glory/ do you see with a lascivious gaze? I see the sky full of light/ I look in all of nature/ the beautiful, the great, in the naïve!" translated from the original in French in Neil McWilliam, op.cit., p. 62.
[3] Wildenstein Institute, Fred Leeman, Emile Bernard (1868-1941), Citadelles & Mazenod, Wildenstein Institute publications, 2013, p. 72, fig. 29.