Charles Nicolas Cochin
Sculpture, Painting and Engraving Morning the Death of the Marquis de Marigny et de Ménars | La Sculpture, la Peinture et la Gravure pleurant la mort du marquis de Marigny et de Ménars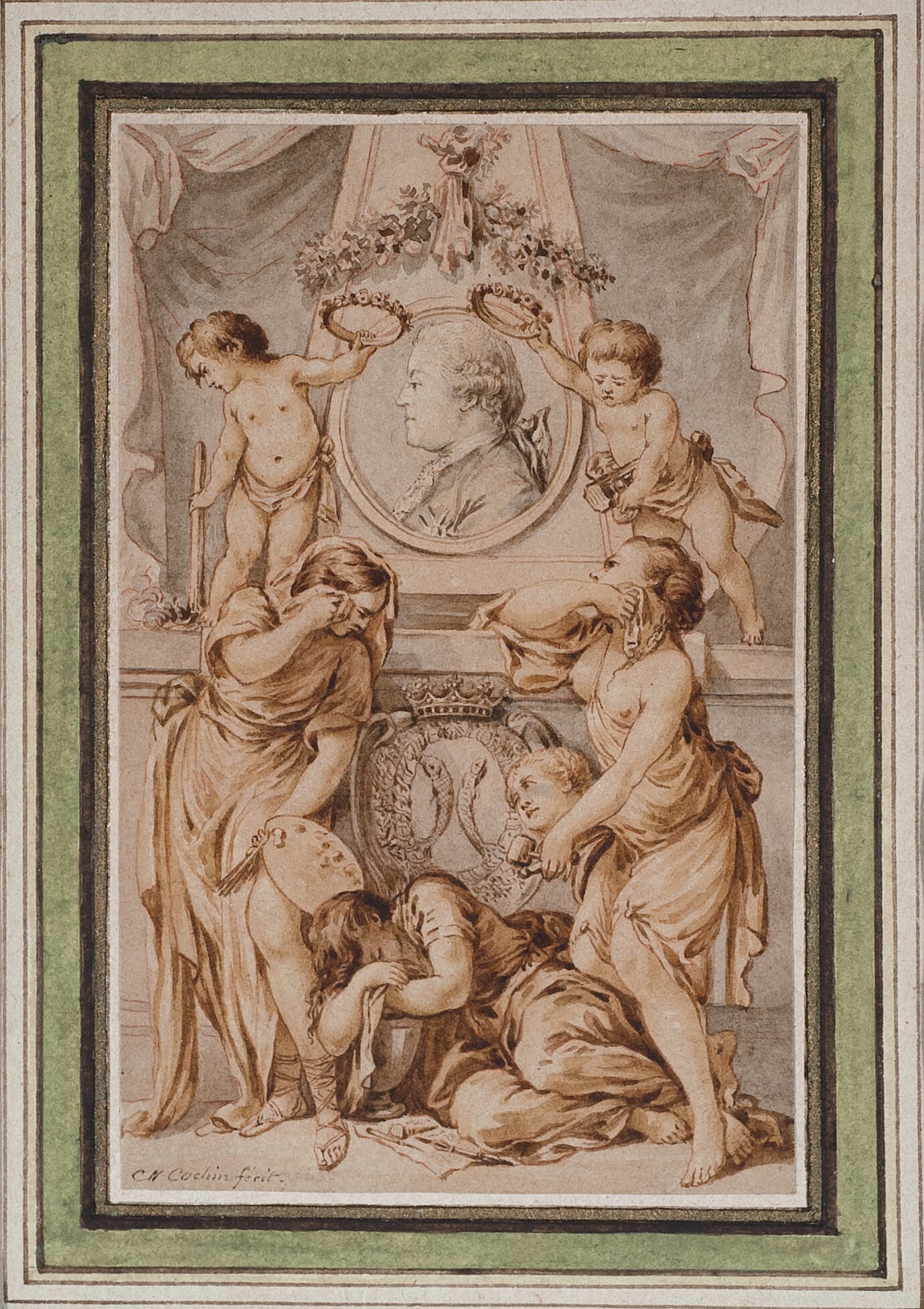 Pen and brown ink, brown wash, grey wash
Signed C.N. Cochin fecit
122 x 76 mm (4 ¾ x 3 in.)
This lovely drawing executed in a refined technique can be connected with the engraved frontispiece after Cochin's drawing for the catalogue of the sale of the cabinet of the marquis de Ménars – Abel Poisson de Vandières, marquis of Marigny and of Ménars – which was held on 18 March 1782.[1] "Weeping arts honoured his memory, and his love for them will live in their history" reads the inscription on the print, which Bachaumont finds "most kind and tasteful".[2] In fact we can see Painting, Sculpture and Engraving, all three stricken with grief, around the marquis's coat of arms: two fishes facing away from each other. They are placed at the foot of an obelisk decorated with a medallion with his effigy. Two small angels approach the effigy with flower wreaths in their hands looking quite in distress too. Cochin's print represents a veritable tribute paid by the arts to the marquis de Marigny and demonstrates their respect and acknowledgement. It equally bears witness to the long and fruitful relationship between the two men.
Coming from several artistic families, particularly engravers, Cochin was a very educated, intelligent and kind man. He had made his way in the world relying on various connections his family could find for him. In 1739 he was appointed to the Menus-Plaisirs; in 1741, he was elected a member agréé of the French Royal Academy. From 1741 he frequented the salon of Madame Geoffrin which gathered the leading figures of the art world. The two men may have crossed paths at one of these famous Monday diners. Wherever they have met, it was on Cochin that the Marquise de Pompadour called to educate the taste of her brother, Abel Poisson de Vandières, future marquis de Marigny, and to perfect his artistic education. The two men were sent to study in Italy in December 1749, in the company of the architect Jacques-Germain Soufflot and by the art critic and historian abbé Leblanc. The complicity established between the two men during this trip was decisive for the advent of the neoclassical taste in France. Cochin and Marigny shared the extraordinary experience of witnessing, alongside Jérôme Charles Bellicard, the excavations at Herculaneum, which led to the publication of Observations sur les antiquités de la ville d'Herculanum, printed by Jombert in Paris in 1754. The death of the director of the king's buildings, Lenormant de Tournehem, interrupted their journey. Marigny was recalled back to France to assume the vacant post, which he held until his resignation in 1773. He performed this function with great intelligence, encouraging important projects and developing relationship of trust and esteem with artists. As for Cochin, he was awarded full membership of the Academy upon his return and received accommodation in the Louvre in 1752 on the occasion of his appointment as curator of the king's drawings. From 1755 to 1770, he was royal administrator of the fine arts under the direction of Marigny and in this function commissioned other artists, established decoration programmes for the royal palaces, and granted pensions.
Cochin was also an excellent and prolific portraitist sought after by the best Parisian society, especially at the Monday dinners of Madame Geoffrin where, as reported by the guard of the royal print cabinet, Hugues-Adrien Joly, "while some are engaged in conversation, S. Cochin amuses himself by drawing either his fellow artists or art amateurs, as if his intention would be to have them all engraved in order to make a series of portraits."[3] Cochin executed about a hundred portraits. The early ones were exhibited at the 1753 Salon. Systematically drawn in black chalk, they show the models in profile and set within a medallion format. The portrait on the obelisk in the present drawing is the exact effigy of the marquis de Marigny which Cochin executed in this context in 1757 (Paris, Musée Carnavalet). It is difficult to say whether this drawing is a detailed project preparing an engraving or an autograph repetition that the artist made for an amateur. Be that as it may, the present sheet is a work of great refinement both due to its sophisticated graphic technique and to the admirable balance of the composition.
---
[1] Catalogue des différents objets de curiosités dans les sciences et arts qui composoient le Cabinet de feu M. le Marquis de Ménars ... by F. Basan and Ch. Joullain, Paris, 18 March 1782.
[2] Mémoires secrets pour servir à l'histoire de la République des lettres en France depuis 1762 jusqu'à nos jours ou Journal d'un observateur, London, John Adams, tome XX, p. 129, 130.
[3] Hugues-Adrien Joly, "Exposition de l'Académie royale de peinture et de sculpture, faite dans une salle du Louvre le 25 août 1753", Mercure de France, October 1753, p.164, quoted in Charlotte Guichard, Les amateurs d'art à Paris au XVIIIe siècle, Champ Vallon, 2008.