Hilaire-Germain-Edgar Degas
Hilaire-Germain-Edgar Degas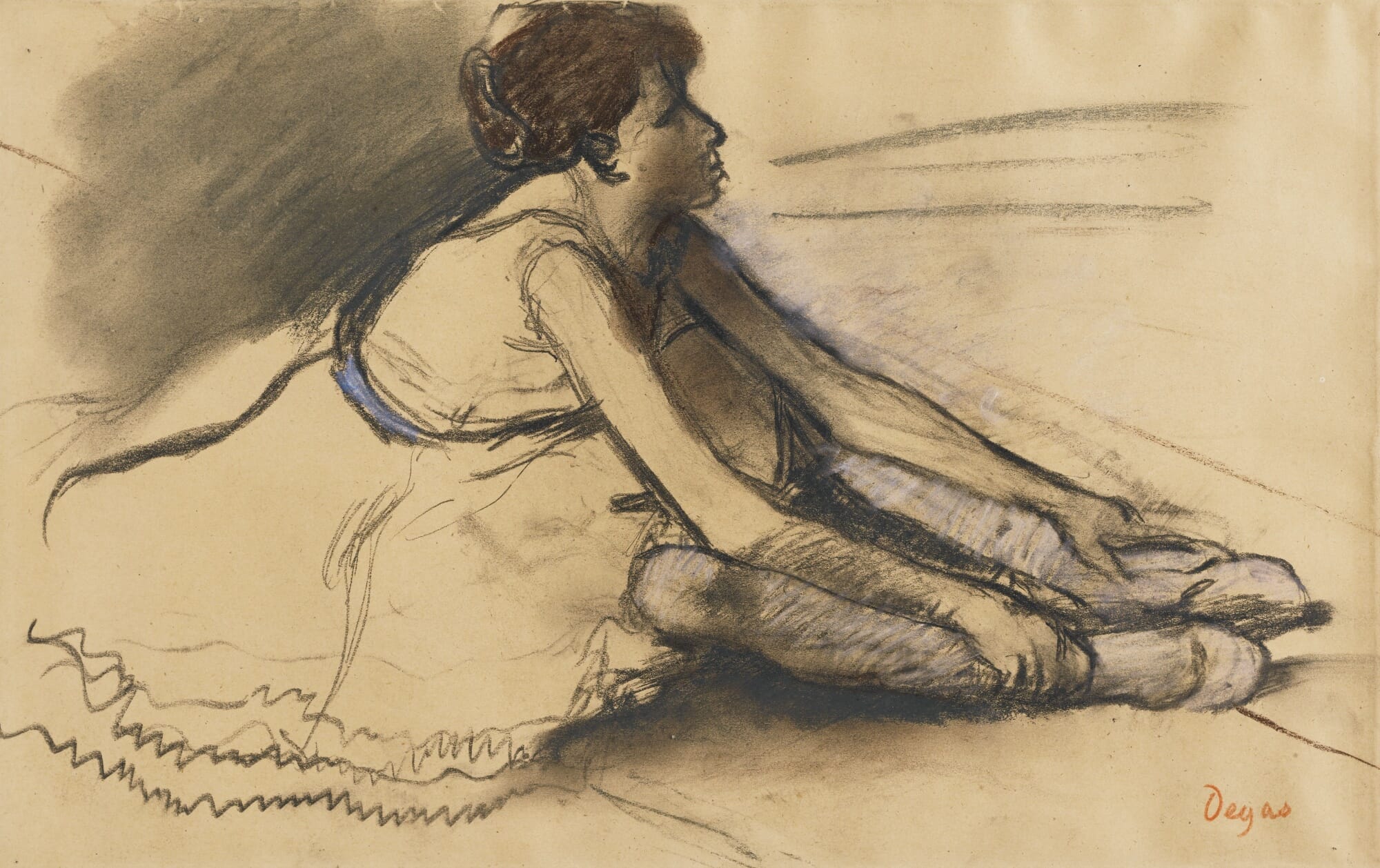 Charcoal and pastel, with stumping, heightened with white chalk
Signed Degas in red pencil at the lower right. Laid down.
233 x 362 mm. (9 1/8 x 14 1/4 in.)
Provenance:
Galerie Durand-Ruel, Paris (no. 2824); William H. Crocker, San Francisco; Prince André Poniatowski, Paris; collection Giancarlo Baroni, Florence; his sale, Sotheby's, New York, 29 January 2013, lot 54; private collection.
Exhibited:
Martigny, Fondation Pierre Gianadda, Degas, 1993, no. 36, p 70, illustrated p. 73 (catalogue by Ronald Pickvance)
About half of Degas' total oeuvre are ballet subjects, a theme he first began to treat regularly in the early 1870's. In his drawings of dancers, Degas was able to develop a huge repertoire of poses which he used and reused in his paintings and sculptures. These drawings were made both behind the scenes at the Opéra itself and, more frequently, from the model posed in his studio. Degas had an apparent affection for these little dancers - the ballet rats - girls from modest backgrounds, often from poor families who entered the Opéra at the ages of seven or eight and spent ten or more years in classes, training for the corps de ballet. He studied and drew their long and arduous hours of practice, their demanding and often unrewarding training, and seems to have sympathized with them and admired their dedication.
The present sheet, clearly made on the spot, may be dated to around 1879. Degas' drawing quickly captures the pose of a young dancer in relaxation, seated on the floor between exercises, rubbing her tired ankles. A related drawing of a dancer in a similar pose, but seen from in front, was formerly in the collection of W. Averell Harriman, New York[1].
In most of Degas's paintings and drawings of dancers it is not possible (nor, indeed, was it the artist's intention) to identify the specific models. The names of a few of the dancers whom Degas befriended, such as Marie van Goethem, Josephine Gaugelin and Melina Darde, are known from inscriptions on some of his sketches. On the whole, however, Degas' works of ballet dancers were simply studies of pose and gesture, featuring an anonymous model. Nevertheless, it should be noted that the dancer in the present sheet bears some resemblance to Marie van Goethem, a ballet student at the Opéra who often posed for Degas and who is best known as the model for the sculpture of The Little Dancer of Fourteen Years, executed around 1879-1881 and shown at the sixth Impressionist exhibition of 1881.
---
[1] Third Vente Degas, Paris, Galerie Georges Petit, 7-9 April 1919, lot 138 (2), illustrated in catalogue p.118; Anonymous sale, New York, Parke-Bernet, 18 May 1972, lot 88.